I love this comic: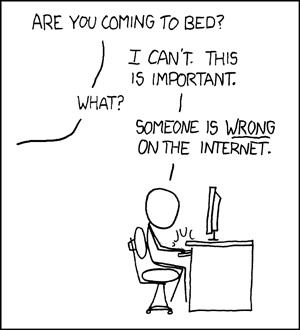 About a year ago, Ivy asked me how to get more comments on her weblog. I replied, "Be wrong."
She laughed, but it's been my experience that the fastest way to get comments on this weblog is to be wrong — even faster than if I ask a question. The only way I've gotten them faster is when I posted on another forum, "Would someone mind commenting quickly as a mercy, so I won't get flamed right out of the gate?"
On Thursday, I posted about capitalism not being an infinitely sustainable system, and I got a lot of posts correcting me, some correcting me about things I hadn't even said — but regardless, the fact is, people commented because they thought I was wrong. I like that, because it gives me an opportunity to learn. Either learn what is right, or learn the way other people think. 
I'm always surprised at the inverse proportionality on the number of comments to the number of page views. Some of my guardian angel posts have had amazingly high numbers of page views but only one or two comments. Some posts I feel are very sweet, touching, or otherwise well-written, and they get no commentary at all.
Part of the web is audience participation. We understand the changed nature of learning and the importance of dialogue. Very interesting to me is how people feel compelled to comment when they disagree but fall silent when they don't.
What's the take-away here? I'm not sure. Despite what I've said, silence feels like disagreement, and I strongly advocate that for most people, the worst you can do to them is ignore them. (This is especially true about passive-aggressive behavior.) No one likes being ignored. Disagreements may become vigorous, but in the fighting there's contact. In silent agreement, there's none.
So my takeaway would be, go to the next blog you'd normally read. And if you agree, post a comment. Tell that blogger you appreciate the fifteen minutes s/he took to write something that touched you, and say thanks. (Don't do it here — if you do it here, it looks like I was self-aggrandizing.)
But my second takeaway would be this: don't be afraid to be wrong. We all get performance anxiety, and especially on the web where we feel like we're "always on," it's difficult to go out on a limb and speculate.
Well — speculate away. Someone will be sure to tell you if you're wrong. And if you're lucky, that someone will even tell you why.